Firefox 4 is under development with the first beta available and the second beta just hit the wire. The new version is, of course, getting faster and improving security but let's check out some of the new features to see some of what's coming next with Firefox. The features differ a little bit depending on your operating system with Windows Vista/7 leading the way in having the latest features included although beta 2 also brought these features to Mac OS X and Linux theme changes will be coming soon.
I tested on Windows XP, so I don't get to see all of the features but you can get quite the overview by checking out the Firefox 4 Beta Features page and watching the embedded video. Or… I can embed it here:

Here's a screenshot of a freshly installed Firefox 4 beta 1 on Windows XP. Some changes you'll notice immediately while others might be more subtle.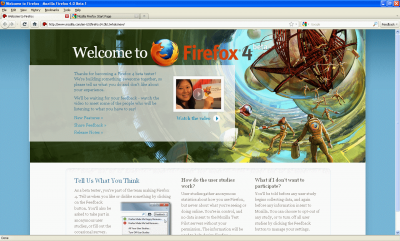 The most noticeable change for me was the tab location. It's getting a lot of buzz because this means Firefox is moving towards a similar UI experience as Opera and Chrome by having the tabs on top. Fortunately and very importantly, this change is a preference. This means when you start a new profile or just install Firefox, the tabs are going to be on top. However, you can simply right-click the menu area and uncheck 'Tabs on top' for the tabs to return to the position you've known for the previous versions.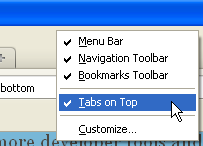 I'm looking forward to really getting to try the new tab position in my usual workflow (not when I'm consciously staring at it because I know it's new). Often I'll go to click to switch a different tab and end up accidentally clicking something on my bookmark toolbar, which changes the page I'm currently at and could be quite detrimental depending on what the current tab is doing. Mozilla has plenty of justification for changing the default tab position and also explain it in this video:
Another cool feature coming with Firefox 4 are called App Tabs. They're a smaller tab that is kept to the left and can't be closed accidentally. This is ideal for the web pages you always have open, like your streaming music, your e-mail, and your calendar. It saves room but is still quickly accessible, for example if a song comes on the radio that you want to quickly skip. It scrunches the tab down to just the favicon. You easily make an App Tab by right-clicking on the tab and toggling between 'Make into App Tab' and 'Make into Normal Tab'.

The Firefox button only works on Windows Vista and 7 machines so I'm borrowing this image from the Firefox beta page to show you it. It looks and operates a lot like the Microsoft Office button, consolidating the menu bar into a simple, cleaner vertical menu.
Another great change comes to add-ons. They'll be getting a new interface but also change that they can be installed without having to restart the browser, a long overdue feature.
Add-Ons can be installed without restarting the browser, and can be developed more easily using the new JetPack SDK and js-ctypes.
For the beta tests, there is a Feedback add-on installed that allows you to send the positives and negatives of your experience with the beta to the developers by means of the happy/sad faces. This feedback is crucial to getting the best product experience when the browser becomes the final version.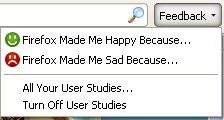 Along with the happy/sad feedback, there are also User Studies that might take the form of more in-depth surveys. You always have to opt in to taking a survey or participating in a user study.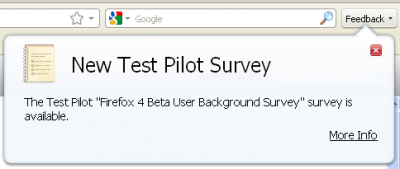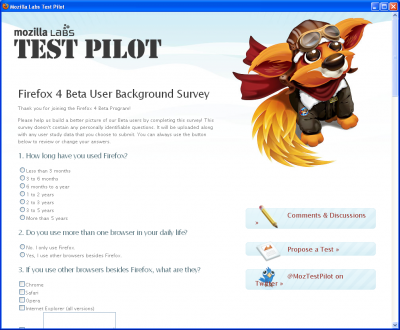 You can check out the Firefox 4 Beta 2 for yourself from the Firefox Beta site. You can also read about the user interface design on the Firefox User Experience blog and a related site.